Give-a-little-a-thon
[from our dedicated and always cheerful, Fire Chief, Russell]
Kia Ora,
The Rodney community is getting behind the Puhoi Fire Station appeal, with a Givealittle-athon, timed for Guy Fawkes weekend. We had hoped to get our local radio station, More FM Rodney, in behind the event!
Anyone planning to donate should do it Guy Fawkes weekend!
The Puhoi Fire Station Givealittle campaign, technically, is an 'open cause' that runs until 31 May 2017. However, rather than have it drag on for another seven months, a 'Givealittle-athon', climaxing on 5–6 November, is underway.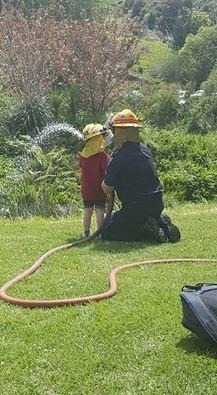 Here's why:
The funding heavy lifting has happened, but help is needed to finish the job, so that as soon as the building is complete, a fully operational fire station can be opened; so, to help make this happen,
Donations of $25 or more made between now and the end of Guy Fawkes weekend attract a reward.
All that those wishing to receive a reward need to when donating on Givealittle, is to provide their details for an e-receipt, and check the 'Share my details with Puhoi Volunteer Rural Fire Force' box.
Check out the rewards—you can even suggest a reward!—at mahurangi.org.nz
This initiative is also being publicised by:
Junction magazine Remember, Remember Puhoi Fire Station 5 November
Mahurangi Matters Puhoi Fire Campaign Rekindled
Rodney Times Puhoi Firefighters Drive for Permanent Home
Your support in promoting this community-led event could really be the difference in gaining momentum over the weekend. Feel free to get in contact with me at any time over the next few days to discuss further.